Good morning my fellow sewing enthusiasts I am Kimberly the designer behind
Straight Stitch Designs
and I am honoured to be here today on Swhetty Bettie's blog sharing a little bit more about myself, my sewing vision and some of the fun things that are in the pipeline in the coming months.
Sewing has been a part of my life since high school when my mom taught me how to sew. Most 16 year olds don't ask for a sewing machine for their birthday but I did and it is actually the same sewing machine I used until this last October when I upgraded to a new machine. Although over the years I have sewn a little or a lot it has been a constant in my life as a way to express my creativity. That doesn't mean that all my projects turn out great but I usually have a good time making them. And trust me there is no shortage of flops around here.
Sewing for my kids is what finally brought me back to sewing regularly and gave me a renewed love of the art of making. It helps that they proudly wear mommy made clothes and will tell anyone they see that I made whatever they are wearing at the moment. Just the other day my daughter walked up to two people she had never met, struck a pose and said "do you like my outfit? My mommy made it" She is definitely my biggest cheerleader. My son is just as happy running around in underwear as mommy made clothes but I hope he also learns to appreciate the art of making your own clothes. When I immersed myself in the world of pdf patterns a few years ago I was in awe of the pattern designers I was testing for. It wasn't until I decided to sign up for the
Pattern Workshop
course by the amazing Lauren Dahl that I realized just how much I enjoyed the process of designing sewing patterns and found that I was actually pretty good at it, if I do say so myself. It is from here that I started
Straight Stitch Designs
.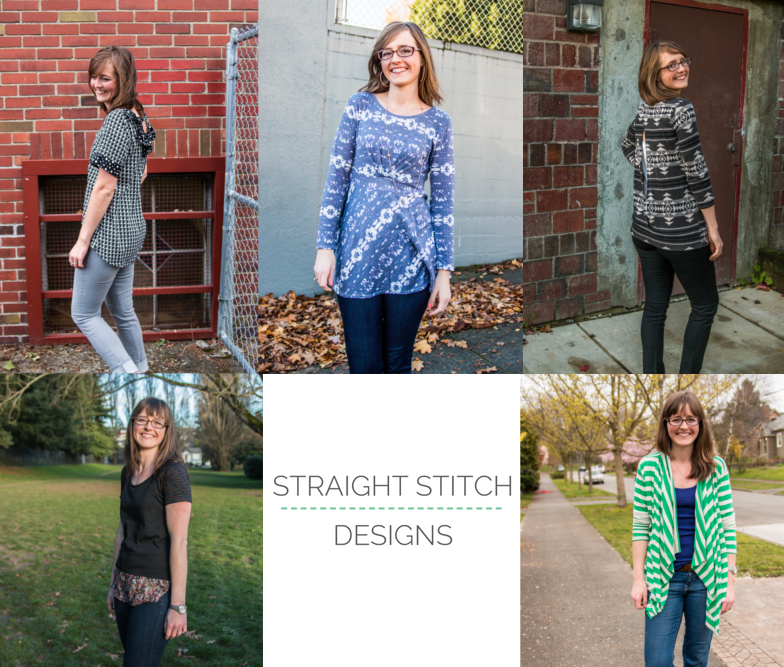 The vision for all of my patterns comes from my desire to be comfortable in my day to day life as a mom to two kids while still looking put together. The patterns I create will elevate your everyday 'uniform' from simply about comfort to style and comfort combined. The reality for me and many women out there is that we just need clothes that we can throw on on our way out the door, because sometimes it's nice for that not to always be yoga pants. Trust me when I say those have a constant rotation in my wardrobe too. In the coming months expect to see more of the basics with my own little twist on them. Because while I would love to think I will use fancy tops and dresses the reality is what I really want is a tank top and a comfy skirt while hanging out with my family. And really who doesn't love filling their closets with the basics that can be mixed and matched to round out your wardrobe.
These crazies above are my 'team' and while it would be really fun to devote my days to growing my pattern business right now my main job is taking care of these two littles and spending time with my husband. But don't worry I still find time during my days to work on my patterns because when you find something you love you find time in your day to do it. I am really excited about the patterns that I am currently working on and can't wait to share them with all of you very soon. Make sure to head over to my
blog
to keep up to date on what I am working on and if you want a glimpse into my daily life both sewing and non sewing related make sure to come find me on
Instagram
. You are sure to find lots of pictures of kids and coffee mixed in with sewing and fabric. A perfect mix if you ask me. As a little thank you to all the amazing readers of this blog I am offering 30% off all patterns both paper and pdf through Sunday so make sure to head over to my
shop
and use code 'Betties30' when placing your order. I hope you have enjoyed learning a bit more about me and what makes up the patterns you find at
Straight Stitch Designs
.